I haven't had time to sleep much less sew. Yet for some odd reason I have the inability to say no. I agreed to make a Prom Dress for one of the young women at the church. And she wanted Shiring, oh me oh my.
The Organza we bought didn't lend itself to thin shirring with elastic thread so I had to opt for large folds, which meant a lot of pins and hand manipulation of the fabric.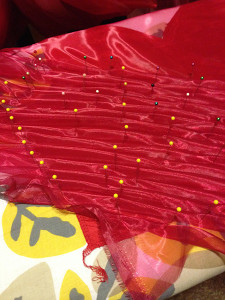 Considering I was working on no sleep and I only spoke to the customer once and did a muslin and a half. (yes, I only did a test of half a bodice and armhole) I was surprised that it fit her as well as it did. I was sleeping when she came to pick up her dress, no pic with her in it.