Super Saturday Craft
Having a sewing craft at a super Saturday Relief Society Craft day is difficult to do. I've attempted a couple of times. There just isn't enough time. When I was asked if we could sew an I Spy Bag as one of the Super Saturday Craft projects, I had to come up with something fast and easy. As always the first place to go is Pinterest, no need to reinvent the wheel if it has already been created. I didn't find anything easy enough, well not as easy as I wanted it. I liked the idea of the glass bottle I Spy Bags but that wouldn't be feasible for sacrament. It would need to be cloth and sewn. I didn't want to have to sew an entire bag. I then thought I need to find a clear pre-made bag, I immediately thought Organza bags and then all we have to sew is the top. I assumed it was going to work so I ordered 100 Organza bags from Amazon. I made one up and picked it up and played with it every now and then for short periods. I was glad that no rice escaped, the fabric didn't tear and it was see through enough that you could enjoy the little charms you found.
I Spy Bag Materials
Organza Bag 5″ x 7″
Charms
Laminating sheets/Scissor
Rice
I Spy Equipment
Camera/Computer/Printer
Sewing Machine/Thread to match
Laminating Machine
Hole punch
I set up the work station with a table they could walk up to and pick their charms, I then photographed the charms and handed them back.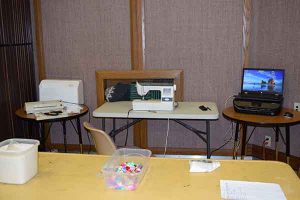 They placed the charms and 1 1/2 cups of rice into the Organza bag. They then handed it back to me so that I could sew along the top.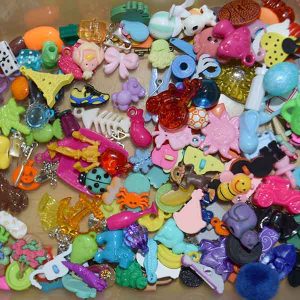 Someone printed their picture and had them laminate and cut out a cheat sheet.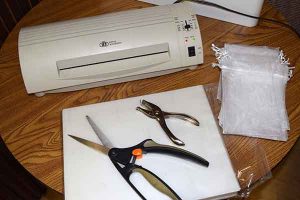 They then punched a hole in the cheat sheet and threaded it to the drawstring on the bag.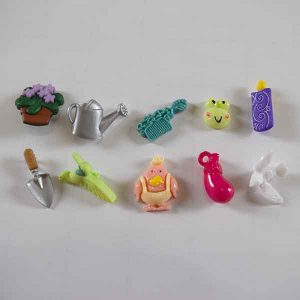 It was super easy, it did take a bit of time to print and laminate the cheat sheets but all in all it went pretty fast and they could move on to their more time consuming crafts.