My mother is as difficult to buy for as I am, and I'm bad. Most would just prefer to ask me what I want. My mother has mentioned that when she uses her walker she can't carry her books and water bottle from the room to the living room. Almost a year ago I bought a pattern for a wheelchair bag, I opened it up and it had a ton of pieces, so I didn't tackle it. There was just no way it should be so difficult. It should really only be an hour project at the most.
So when I start writing out the Christmas list I remember my mom's complaint, because when I walked over to her house to measure the width of the wheelchair she says "no I don't want that make me a cover for the wheelchair cushion instead" needless to say I did both.
This is what I came up with, in less than an hour.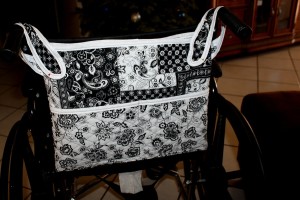 All you need is – 1/2 yard of double sided quilted material
– 3 yards double wide bias tape
– two buttons
On the fold cut a piece 18 inches wide by 13 inches tall (main pocke
t). Then cut a single piece 18 inches wide by 7 1/2 inches tall (outer pockets).
Iron up the 1/2 seam allowance along the bottom of the outer pocket piece. Unfold the piece you cut on the fold. Stitch the outer pocket piece at the fold line of the main pocket piece.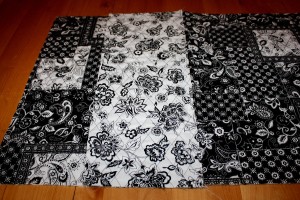 I did two rows.
Then stitch bias tape on the upper edge of outer pocket (measure exactly, there isn't much bias tape to spare):
After incasing the raw top edge of the outer pocket. Stitch down the middle of the outer pocket, to make two pockets. Or you can make three smaller pockets (up to you):
Cut 2 pieces of fabric 13 inches wide by 1 1/2 inches tall (straps). Stitch bias tape around three sides. (I rounded one end of mine):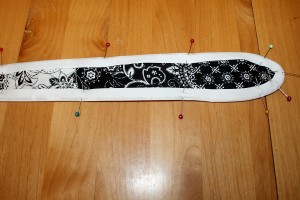 Now pin the straps about 2 inches down from the top main pocket piece, Fold up the main pocket piece making sure to sandwich the outer pocket and the straps. Sew up both side seams.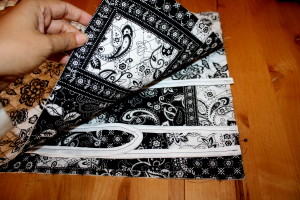 Serge or zig-zag to finish the raw edges of the side seams. Then turn the pocket right side out. Your almost done. Incase the top raw edge of the main pocket piece all the way around and stitch it in place.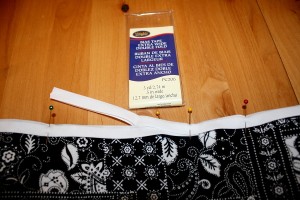 Remember I said be careful with the bias tape, this is how much you have left over.
The last thing you need to do is make some button holes and attach the buttons. I wasn't able to find buttons I know my mom would like so, the pictures for now just have pins.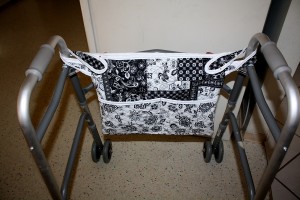 I hope this is useful. If you have any questions or suggestions please send an email sonia@modesteve.com ~Sonia