Have you ever had a project where everything went wrong? Well this was one of those projects for me.
Last Christmas my daughter got a new iPhone 6 plus. It is a big phone, it didn't fit in her pockets – not her shirt pockets nor her pant pockets. She doesn't carry a purse probably because I have never carried a purse.
I have a business card holder that holds my drivers license and my ATM debit card and that's it. As we sat there and powwowed as to how she was going to not loose this phone – she has lost a few by leaving them behind, in the car or in the classroom. She suggested a small purse that would fit just the phone and her business card holder (yup she's just like me).
Any who, She saw a Hello Kitty purse online but it was made out of plastic and she didn't like that. So she set me off on a project to make a more grown up version of a Hello Kitty purse. I'm pretty sure that is not possible but we won't tell her that. She is happy with the results almost 9 months later.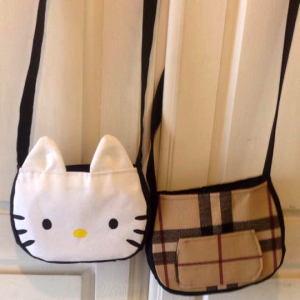 My first thought was this should be easy I'll draft the image I want on the computer and print it on fabric paper. Well if you have followed along I had about 3 months of computer issues. After 2 new computers I was at the point where I could print.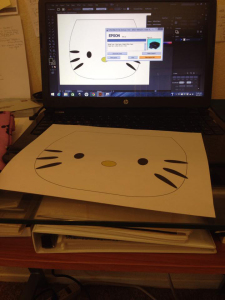 So I put the fabric paper into the paper tray of my printer, and hit print. I churns and churns and churns some more. Nothing, It won't pick up the fabric paper. ***Note: you need a top feeding printer in order to use fabric paper! So after the frustration I put it away for a while and moved on to another project.
It finally hit me, Fabric Markers. So that's what I did, I went looking for my fabric markers. I don't think I mentioned it here, I know I did on my facebook, but about a year ago my landlady decides to tell me that I'm not allowed to put nails in the wall. Well guess what every room in this 1,800 sq ft house had shelving put up there with nails! It literally took me 18 hours of doing nothing but looking for the fabric markers to find them. I'm sure if Joann's had been open I would have just gone and bought another set. but I started looking at my AM which is 9 PM. (I work graveyard at a hotel).
In any case, It worked out just fine! I peeled the fabric off the paper that is used to feed through the printer and I used the fabric markers to draw on it! There was no way I was going to waste that expensive fabric paper.
I used my Mini Crossbody Purse pattern and drafted some ears.
I was told today that she is missing a bow. So off I go to make a red bow.
~Sonia