Re Usable Produce Bags
I have been using Re Usable Grocery bags for some time, but I always feel guilty every time I have to use the plastic produce bags for my veggies. So I decided to sew some. I did a Pinterest search to see what fabrics people were using. I came to the conclusion that the Apparel Grade Tulle would be the best, since it would be light enough to not add excess weight to your purchase and it would be durable enough to use again and again.
If you don't have time to sew there are some inexpensive bags on Amazon. Reusable Produce Bags – Premium Washable BahrEco Mesh Bags for Grocery Shopping & Storage of Fruit Vegetable & Garden Produce – Eco Friendly Net Bags
I then realized that it might not work for my fine grains that I buy in bulk like my cous-cous and Quinoa. I thought on that for a bit while I sewed. I then thought that I would give some organza fabric a try. Also light weight and durable. A bit fancy but I would be reducing my plastic usage so totally worth it. There are also some Organza bags on Amazon but they are in bulk, You can give them away to your friends 😉  Anleolife 60pcs White Organza Bags 6×9 inch Large Gift Bags Wedding Favors Candy Mesh Pouches Samples Pamphlets Goodies Packages (white)
Easy-Peasy to Sew:
Cut two pieces of 14 inch by 18 inch fabric.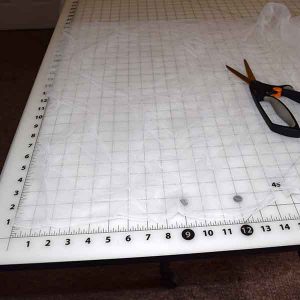 I made use of the selvage edge so that I didn't have to worry about doing a finishing seam along the top.
Sew Sides and bottom.
I used a serger even though the tulle doesn't need the seams to be finished. If you don't have a serger and use the Organza you will need to finish the seam with a zig-zag stitch.
Sew Casing.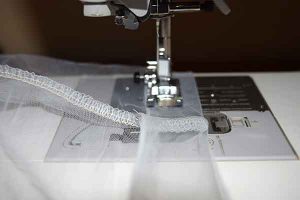 Fold down 1 inch along the top and stitch the casing. Be sure to leave a one inch opening to thread your ribbon.
Thread Ribbon.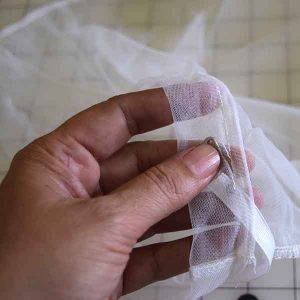 Using a safety pin, thread the ribbon into the casing. Knot the end.
Clip Ribbon.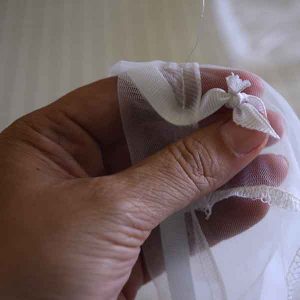 So that your ribbon doesn't ravel, clip the ends in a deep diagonal.
Turn your bags right side out!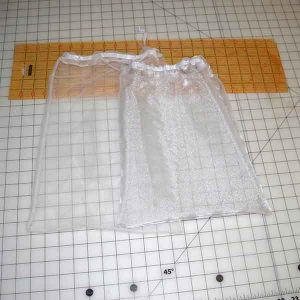 Easy- Peasy – Thank you for helping reduce the use of plastic.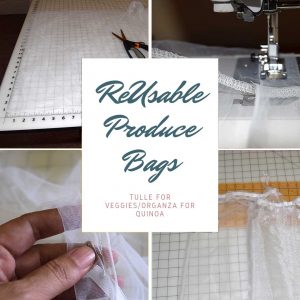 Feel free to email me at sonia@modesteve.com if you have any questions or suggestions.