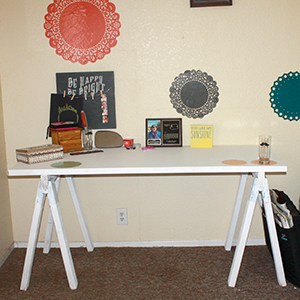 For Christmas my daughter wanted a large desk. There were plenty of examples on Pinterest! A few referred to components you can purchase at Ikea. I did the research and looked at Ikea and well there was no way I was going to pay almost $300 for a desk.
So I did some more research, can't be that hard to build a saw horse, well in our case we needed two. I found the easiest way to build a saw horse.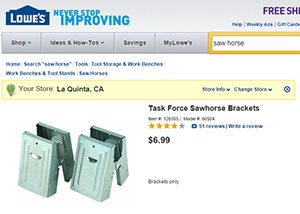 Saw horse brackets! All you do is cut your wood and place it in the slots, you don't even have to angle cut!
You wouldn't guess what I used for a desk top? A door!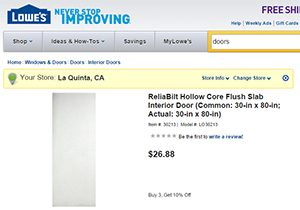 You really shouldn't cut a hollow core door, but I did, and Stephanie glued some edge trim we had in the garage that was just the right width. It was meant to be!
Recap: 1 door, 2 saw horse brackets, 3 – 2″ x 4″'s and some nails and paint we already had, Here is Stephanie's $56 Desk: