Every year my daughter pics a theme for our Christmas decorations. This year she stated that she wanted all new decorations and wanted the house to look like Whoville.
I really thought that when my child was in her 20's, Christmas would be easier. I was wrong! So in early November I create myself a new pinterest board and start planning. I was in the middle of a promotion at work so I didn't have much time for sewing until after I had been promoted, trained, tried and tested. Then the 3rd week of November I hit the ground running.
I designed a new Christmas Stocking. Join our email list to gain access to our Members Only page and have access to free patterns. The directions are the same as my Regular Christmas stocking pattern except for this one you will need to purchase Wonder Under and follow the directions on that product to make some circles and attach them to your stocking fabric pieces before you start sewing up the stocking.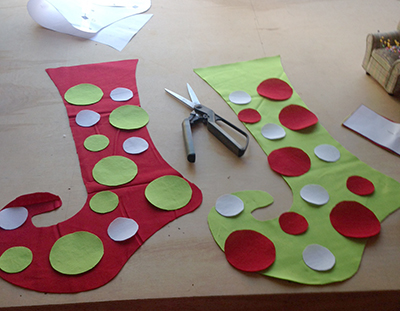 My Whoville project was very rudely interrupted by my gallbladder. You see a stone decided to create an obstruction and cause major pain. After a trip to the ER via Ambulance (my first ever ambulance ride, not so fun!) and a visit to the Operating room (don't remember that one, which is good.) I'm now 3 weeks behind on my projects.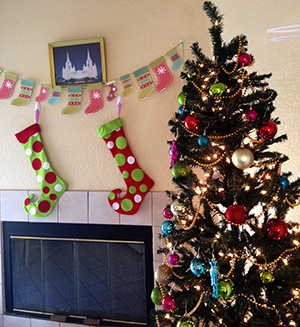 The good news: I'm alive and doing well!
The entire house didn't get turned into Whoville, but we did manage a small corner. It was perfect for our Christmas Card picture. We wish you all a Merry Christmas and a Happy New Year!