Every now and then I write a blog post for myself. A place where I can compile information that I don't want to loose. I have been on Pinterest for many years but never took the leap to do Affiliate marketing to attempt to make some money at it.
When I finally decided to take the leap I wanted to make sure that I was doing it legally. I love my Pinterest account and would never do anything to jeopardize it.
The first thing that I did was turn my personal Pinterest account into a Business account. Pinterest makes it easy just click on the button. I wish I had taken a screen capture 🙂
I then went in search of a summary of all the legal information because who can understand or has time to read the legaleez that is put out in the terms of use? I wish I did.
After many hours of sifting through blog post after blog post I hit the mother load of information when I found Sarah's post on NDCfullcircle.com she gives you all the advice that you need all in one post without asking you to make a further purchase. Loved it!
With this new information I then went in search of products that would be of benefit to my readers. I found this post with information on Affiliate programs. I found products in the top 3 programs so I signed up. I also signed up for MagicLinks as it was recommend by a fellow blogger.
Now armed with all this information I found some courage and posted a sponsored pin on Pinterest.
How to:
Get your affiliate link url (directions are different for each affiliate program)
Find or take a good quality image.
Open one of your pinterest boards.
Click the + on top of the board and select create a pin.


Add your image, Add a title, Add a description, Add your unique affiliate link url and choose a board.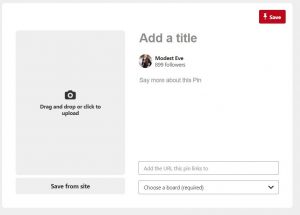 ***It is important to keep it legal you must disclose that you will receive compensation if items are purchased. You do that by placing a statement in the description part (where it says "Say more about this Pin) Sarah explains it all in her blog post. Link towards the top of this post.
if you have any questions or comments feel free to email me at sonia@modesteve.com or hit me up on any of the social media channels – links on the top right side bar.